Podcasting is a fast rising development in Nigeria and the globe. The term comes from the fusion of 'iPod', a digital player made by Apple and the word 'broadcasting'.

Podcasting is the process of making and distributing digital audio recordings on a wide range of topics of interest including fashion and food, self help and tech, etc. This service allows internet users free access to recordings usually in the form of MP3s and MP4s.
Files like these are called podcasts and can be accessed using mobile devices, virtual personal and google assistants, computers or digital audio players.

It is important to understand that podcasting isn't a one-off thing; podcasts are episodically recorded in series and made available to target listeners, on-demand.

"Podcasting, previously known as audio blogging, has its roots dating back to the 1980s. With the advent of broadband internet access and portable digital audio playback devices such as the iPod, podcasting began to catch hold in late 2004" – Wikipedia.

As reported by the 2019 US podcast statistics, 51% of the US population has listened to a podcast, half of all households in the United States are home to podcast fans which is about more than 60 million households, 68 million people listen to podcasts weekly with about 49% of listening done at home and 21% in the car.
According to Forbes, "More than one-third (39%) of owners of Small and Medium-Sized Businesses (SMBs) listen to podcasts, and 65% listen at least weekly"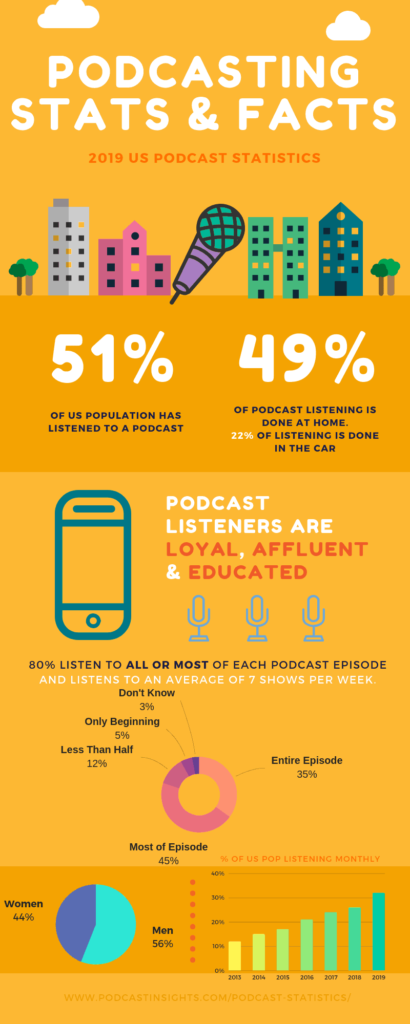 With its gaining popularity, this art now has many benefits attached to it; both to the individual who listens and to the podcaster. It is an important tool to be leveraged on and below are ways brands and individuals can achieve that:


1. Innovative Learning: It is an easy way of learning or reading without necessarily picking up a book. You could listen to any podcast of your choice from the comfort of your bedroom, kitchen, bathroom, while you drive, walk, jog or work out. It helps you grow as an individual, especially one looking to improve on certain skills or profession.

2. For Marketing: Before the advent of technology, businesses had to rely on traditional means of advertising, and thus, couldn't reach a wide populace. Today, utilizing digitization like podcasting, business owners can reach millions of people all over the world and attract potential clients.

More than selling products and/or services, podcasting has created an opportunity for different thought leaders to build authority in their respective industries.

3. As a Portfolio: For Broadcast Journalists, Voice-over Artist and other professionals in the audio content industry, this will enable them easily compile their portfolio so as to reach out to prospective employers and clients with an evidence of their previous works.

4. Connection: Podcasting helps in building a personal connection between the podcaster and the audience by relaying the exact emotions felt at the time of recording. It is a very good form of communication.

Although quite a bit of a task to start, podcasting is relatively uncomplicated and does not require a degree or certifications to start. All one needs as a starter, is a smartphone or laptop, a microphone, editing apps and most importantly, access to the internet.