The news: Adaverse – a Cardano ecosystem accelerator setup to encourage the growth of Web3 crypto-native enterprises in Africa, has announced its investment into a seed funding round for Afriguild – a blockchain gaming guild-turned DAO (decentralized autonomous organization) providing opportunities for Africans through gaming, education and community building.
Adaverse and EMURGO Africa have joined other notable investors in this investment round to speed up Afriguild's mission to onboard 100 million Africans into Web3 over the next 5 years.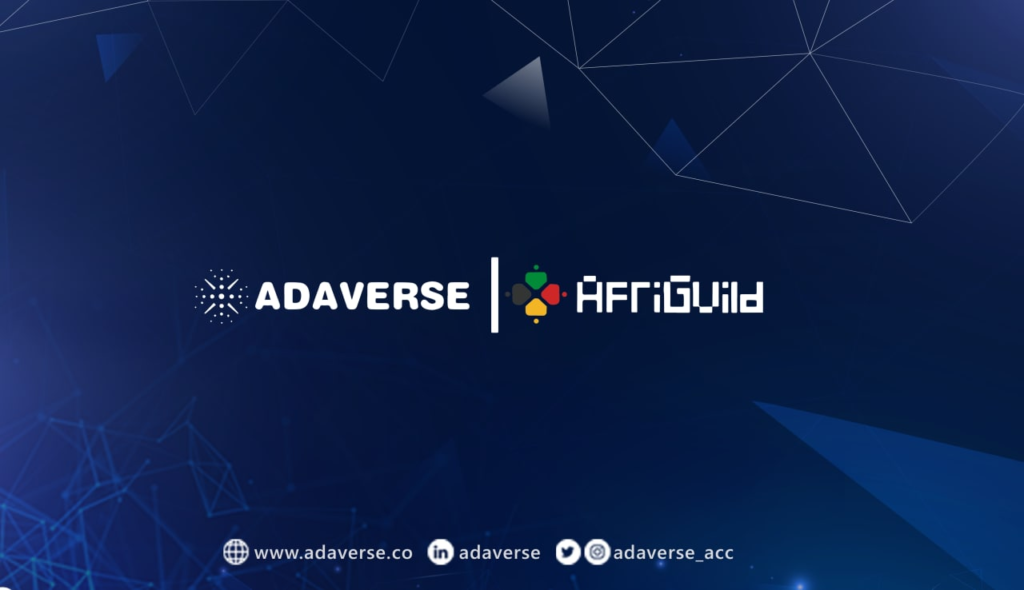 Adaverse was launched in September 2021 as a joint venture partnership between EMURGO Africa and Everest Ventures, to identify and provide valuable support resources to promising African startups building the next wave of Web3 Apps in DeFi (decentralised finance), NFTs (non-fungible tokens), gaming, and metaverse tools on Cardano's third-generation and environmentally-sustainable blockchain.
About Afriguild: Afriguild started as a social gaming enterprise that ensures top-rated Web3 games are accessible and profitable for Africans. Within its first few months, Afriguild developed a highly functional platform that enables Africans to participate in blockchain P2E games and other income-generating opportunities in the emerging Metaverse.
Why Afriguild: The choice for Afriguild was due to the startup's belief that Africa has the right indices to achieve a continent-wide adoption in the next couple of years. Also, the number of people onboard the Web3 ecosystem will directly affect the relevance and impact of Web3 over time. This is why Afriguild is now building out the rails to bring in the next 100 million Africans.
At its core, Afriguild believes Africa is the real use case for opportunities in Web3. With a population of over a billion people under the age of 35, Africa has all the right indices to achieve continent-wide adoption in a few years.
Since its launch in late 2021, Afriguild now has over three thousand members on its Discord social messaging platform and is actively driving its mission through gaming, deploying Web3 learning programs, as well as creating IRL blockchain communities across tertiary institutions in Africa.
With a goal to further drive financial inclusion and empowerment, Afriguild has made a significant impact across nine (9) cities in Nigeria with plans to expand into four (4) African countries by 2022 Q4. Afriguild is equally working to bridge the gender gap in the blockchain space with its recent launch of the Web3 Africa Women (WAW) Fellowship to provide learn-to-earn opportunities for women across the continent who are passionate about getting into tech.
Beyond building a gaming guild, Afriguild aspires to become the "LinkedIn" of the Metaverse — a Web3 hub that connects Africans to multiple earning opportunities on the Metaverse with P2E models and a marketplace where game developers are directly connected to hire the services of Scholars, Gamers, Testers, and all kinds of contributors.
Afriguild also will consummate its transformation into a decentralized autonomous organization (DAO) in the near future, using $AFRI tokens created on the Cardano blockchain.
The GameFi industry will be worth an astounding $314 billion by global estimations in 2026, and Africa will account for a significant portion of that revenue due to the continent's massive youth population and an abundance of mobile users estimated at over 747 million.
Despite the fact that GameFi is expanding rapidly over the globe, the majority of Web3 games with high yield assets are not popular in Africa due to the high cost of entry and complex gaming environment. Afriguild solves this problem by aggregating the top games and simplifying them for the African youth to play and earn while building confidence within an energetic and dynamic gaming community.
What the investors had to say:
Shogo Ishida, co-CEO for the Middle East & Africa at EMURGO Africa stated that social communities will re-engineer the structure of global commerce while leveraging on Web3 applications that are running on blockchain technology.
Ishida added that the African continent is socially communal, and as such, the investment into Afriguild would see to creating a better continent on Cardano's third-generation blockchain.
"EMURGO Africa is pleased to support the vision of Afriguild's leadership and development team to create a better Africa on Cardano's third-generation blockchain which desires to provide equal economic opportunities to those that lack access", he said.
In addition, Toyosi Abolarin, the co-founder at Afriguild stated, "At Afriguild, our strength lies within our community, and this has been the driving force behind all we do. Cardano has one of the most vibrant communities in the blockchain industry and will play a crucial role in achieving our goal of putting Africa on the map. Cardano's technology is an innovative protocol that provides a robust infrastructure for Afriguild to develop an ecosystem of impactful and reliable products".
Tomiwa Olajide, co-founder of Afriguild expressed his excitement towards the investment. He stated that the Adaverse accelerator program would provide unparalleled access to world-class mentors and advisors who'd build on Cardano and who'd also support the growth of Afriguild.
Vincent Li, founding partner at Adaverse said, "The Cardano community upholds an organic and sustainable approach to problem-solving and Adaverse is excited to welcome the Afriguild team onboard the accelerator program. Through this partnership, Afriguild will expand its operations across Africa and surpass its five-year goal of empowering one hundred million Africans with the means to build wealth with available resources."
In conclusion
The African continent has in the last couple of months shown great interest towards Web3 adoption. The continent is an evidence of a fast-growing community of individuals who are positive about what technology can do for them. The partnership between Khaby Lame and Binance is proof of this assertion.
Be it – cryptocurrency, blockchain or Web3, Africa is ready to advance. The emergence of Web3 is an upgraded opportunity for Africa to create new businesses, social networks and markets in a digital era.