T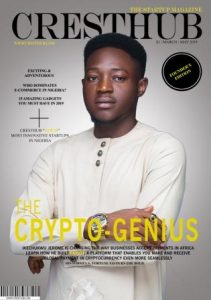 The Founder's edition of the Cresthub Magazine features Ikechukwu Jerome (Founder/CEO, Paylot) on its Cover Page.
In this Edition, he talked about how he built Paylot, a cryptocurrency gateway system that enables its users to make and receive payment even more seamlessly. He also shared what he believe has been his formular since he embarked on his entrepreneurial journey.
CRESTHUB TOP 20 MOST INNOVATIVE STARTUPS IN NIGERIA
With the increase in Tech Startups in Nigeria, the Editorial team decided to take a look at the current most innovative startups in Nigeria. Most of the Startups highlighted in this Magazine have already expanded beyond Nigeria, however we still choose to feature them because of the innovative impact they have had on our environment. You can go though our list to see if your startup or your favourite startup made our list.
JUMIA AND ITS 'BEHEMOTHIC' GROWTH
"Jumia has become a behemoth and its competitors are sleeping"
-Nwobodo Johnpaul
The Above statement might sound hyperbolical, yet one cannot deny the fact that Jumia is already a behemoth with an innocent intent of dominating Africa's E-commerce sector.
If you will like to know the strategies adapted by Jumia in order to reach its current height, I advise, you check up the 'STARTUP DEN' – A section of the Cresthub Magazine.
TRAVEL | LIFESTYLE
We just couldn't round off the Founder's Edition without showcasing the tourist locations in Nigeria for you to go chill out with your family and friends. From the Nigerian War Museum to the African Shrine, just name it! We have got you covered.
Having gone through the above stated brief, you can now download a copy of the Cresthub Magazine by clicking on the pay button below.
[pff-paystack id="2238″]