Having skills as children have been one of the most welcomed developments and ideas, owing to the facts that the world is ever changing and evolving. Many young superstars have been birthed as a result of the need for children to explore young and develop their skills. 

Veirat Joseph is a 10 year young mechanic whose dynamic story began at age two. The youngster who was born 12th of July 2011 to the family of Mr and Mrs. Joseph Pam from Jos South local government area of Plateau state revealed to have gotten her motivation from her father who is a mechanic. 

What may be played through the gender card as a "man's job" has been one young Veirat has captured, controlled and dominated. She started working with her father at his garage two years ago when she turned 8.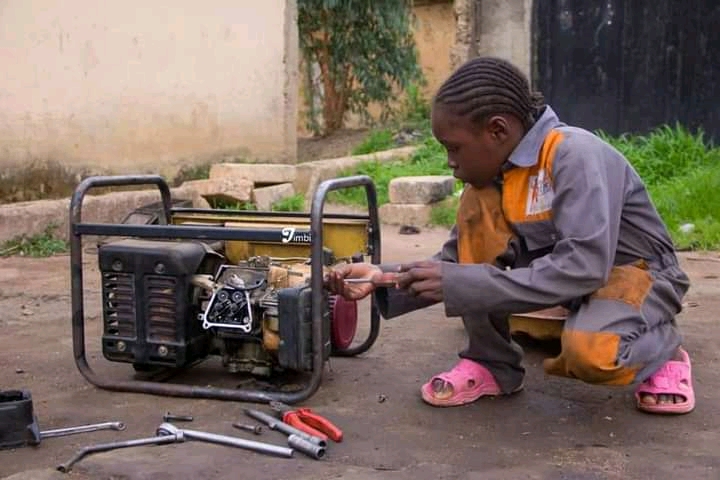 According to Mr. Pam, Veirat's father, young Veirat has been so passionate about generator repairs that she often comes around to watch him work whenever she's home from school. Her interest in fixing generators and apprenticeship at the garage was developed from watching him do his thing at the garage. 

The youngster has since been very instrumental and helpful at the garage ever since her involvement two years back. In her words, "My father is my greatest motivation. He inspires me a lot whenever I see him fixing generators and motorcycles".

It'd be recalled that in the early months of 2021, Veirat was a recipient of the Autolady's Foundation scholarship scheme by Mrs. Joyce Daser Adams (a mechanical engineer and member of the Nigerian Institution of Mechanical Engineers, NIMechE) which is to run till her university days. 

Speaking to CrestHub, a member of the Autolady Foundation, Ms. Ruth Ki revealed that Veirat's performance has gained tremendous improvement in her new school, as it relates to reading and writing fluent English.

Ms. Ruth also added that on paying a visit at the garage, Mr. Joseph (Veirat's father) also noted that Veirat's skills in and around the garage has improved as well. 

Young Veirat is a superstar and one with a defined niche to her venture.