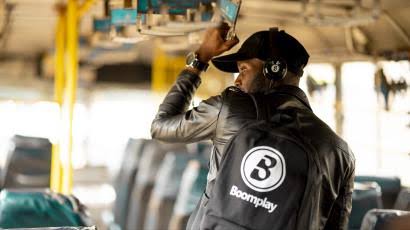 Nigerians and the world at large were in a celebratory mood when award-winning artist, Oluwatobiloba Daniel Anidugbe popularly known as Kizz Daniel was celebrated by music stream platform, Boomplay to being the first artist whose music project, Barnabas EP was first to hit a 100 million streams on the platform.
The feat, which according to the company is a part of Boomplay's "unwavering commitment to supporting African artistes, helping them reach and unlock new fans of their music".
Just like the Barnabas EP by Kizz Daniel, the likes of "What Have You Done" EP by Omah Lay, Burna Boy's Twice as Tall and Joeboy's "Somewhere between Music and Magic," were also Nigerian projects with an impressive run on the streaming platform.
Music Streaming In Africa
The market for music streaming in the African continent is growing rapidly seeing the demand for content.
According to reports by Media Research, MENA, Asia Pacific, Latin America, and Africa will account for 73% of global music subscriptions by 2028, counting from 2020.
The reports given is however seen as an up-shot following Burna Boy's African Giant (2019) which paved the way for Afrobeats at the 62nd Grammy Awards in 2020 through a nomination for Best World Music Album. Afrobeats eventually had its big moment a year later at the 2021 Grammy Awards where his Twice as Tall (2020) was named Best Global Music Album.
The nomination of Wizkid's Made in Lagos (2021) for the same category this year makes it the third time in succession that Afrobeats is receiving recognition at the Grammys. Wizkid's Essence, featuring Tems, is also in the reckoning for Best Global Music Performance.
Also, on Monday, Spotify announced that it has added Ayra Starr, Bnxn (formerly known as Buju), Black Sheriff and others to its Radar playlist – an outlet that promotes emerging artists around the globe.
READ ALSO: How Digital Technology is Influencing the Music Industry
Speaking with CRESTHUB, Retnan Daser, the co-founder of Alewa House – a Jos-based digital content distribution and monetisation platform explained in detail how local musicians, especially in Jos can join in the wave of music monetization and distribution, because a lot of musicians will continue making money from "just streaming".
Daser said that streaming has made it easier for artists to be visible globally through promotions/marketing is given by the provisions of multiple streaming services available to subscribers. He said, "With the subscriber counts growing by millions each year, this means that the music is available literally at the fingertips of everyone. The chances of a new fan discovering new music is much higher now because they no longer have to buy the album to hear it".
"They can simply look through the prose page, see an album, and play it right away–rather than spending ten dollars on an album they have never heard, from an artist they may not necessarily be a fan of. As a consumer, paying ten dollars a month for access to millions of albums sounds a lot better than paying ten dollars per album. The rate at which new music is being discovered has grown immensely over the past few years–providing proof that music streaming may be one of the best things to ever happen to the industry", he added.
Fake Streams Amongst Artists
Fake streams are plays of music by bots, hijacked accounts, or other inauthentic listening methods. This is a plaguing problem amongst artists, which became a highlight of J Cole's verse in the 2018 song, "A Lot." which also features 21 Savage. Many claim to own over a thousand streams yet, all are false.
Speaking on this, Daser said, "If you have money that you're able to reinvest into your career, then reinvest it into channels that are going to actually provide a return that is long-term. Advertising, creating visual content, music videos to grow your channels instead of putting all of your budget into something that isn't going to give you the fanbase that you ultimately need.
"To combat artificial streaming, DSPs are taking drastic action against fake streams. They may withhold royalties, correct stream numbers, and chart positions. Your music may even be removed from the platform if they notice any act of fraud".
Having 8 out 10 artists in the city of Jos using the mobile streaming platform, Audiomack, Daser said the platform lacks "a concrete framework to combat the menace of piracy". He stated that, "Artists' music can be re-uploaded and exploited by anybody on the platform and that's not good for intellectual property control and monetization" – this however poses a threat to the intellectual control of the artist's music.
He added that, artists in the city of Jos, Nigeria and beyond can upload their contents on Alewa House, target their own followers and earn with just 1,000 paid followers. Their earnings are neither dependent on number of views or advertisements. As long as they can satisfy their paid followers.
READ ALSO: Audiomack Activates Monetization Program For African Independent Artists
Creators on the platform will create original contents that consumers can consume (N500/$9.99 monthly) and earn from there. 70% of the money they earn will belong to them, while 30% will belong to the distribution company.All they've to do is:
1. Sign up (FREE)
2. Upload their music (FREE)
3. Choose either freemium or premium
With 1000 premium streams, Alewa House guarantees a heavy cashout for musicians.
NFTs And African Music
Nigerian artist, Rema debuted his maiden album "Raves and Roses" as an NFT on the 24th of March, 2022. The artist who did so to connect to his fan base, also stated that the release of the project as an NFT would give his fans exclusive access to discount concert tickets.
Daser applauded this to be a noble move also said that, NFTs and music streaming go hand in hand as NFTs are a type of cryptocurrency, but instead of holding money, they can hold assets like art, tickets, and music. He added that NFTs are a sort of digital certificate of authenticity or proof of ownership of a digital artwork.
"Born out of the visual art world, NFTs can be used to prove ownership of a specific piece of music, art, or merch, or secure access to live shows. It differs from a normal digital ticket or a downloaded file in that it can't be copied", he said.
He added "Just as signed records gain value from their rarity and symbolic importance, NFTs could make the same true for digital items. Even if the item is not rare itself, the token is rare, giving it its value".
NFTs also have the potential to change the way artists think about streaming revenue. For instance, if an artist sold one million copies of their new single for $1 each, that's $1,000,000 banked, directly in their pocket. Linkin Park's Mike Shinoda sold a digital piece of art that included a song for $30,000 and explained on Twitter: "Even if I upload the full version of the contained song to DSPs worldwide (which I can still do), I would never get even close to $10k, after fees by DSPs, label, marketing"