Like many young people studying in Nigeria, Gift Eno Peters was burdened by the rigorous and uninteresting educational system. Rather than the expectations and excitement that comes with learning, she woke up each morning, feeling unmotivated to attend classes.
In search of a solution to this problem and a quest for quality education, Ms. Eno began to study the root cause of her problem — Nigeria's educational system, alongside that of many other schools in the world.
Speaking to CrestHub, she said, "I got tired of the kind of education that was being given to me as a person. I studied Physics at the University of Jos, and for me, it was hell. This is because I'm a very practical person who loves to explore. I'm someone who loves to interact with things, experiment with things. I have a problem-solving mindset and I love to look at things, see a particular problem and want to solve it, but the educational system had a way of boxing me up."
Ms. Eno's complaint defines how most young people across Nigeria feel about the system and the outdated curriculum and lack of hands-on experience that comes with learning in an institution in the country.
Oliver Atsen, a student of law at the University of Jos said, "if you want to compete globally as a student in a Nigerian university, you will have to design your personal curriculum according to global standards"
Not everyone would be like Mr Atsen, hence, the alarming increase in the number of dropouts, especially in tertiary institutions where students will often tell you that "school na scam" (meaning school is a scam)
Education is said to be the bedrock of every nation, but this is unfortunately not true for Nigeria. Just like some of the systems, education in Nigeria is faced with myriads of problems like poor funding, lack of educational facilities, poor teacher-student relationship, unconducive environment, limited supply of teachers/lecturers, who are oftentimes, not fit for the role and the lackadaisical attitude of the government towards education.
The Nigerian educational sector has been poorly funded in the past years, falling below the United Nations Educational, Scientific and Cultural Organisation recommendation. In the last decade, the highest budgetary allocation that was made for the education sector was 10.7 per cent in the 2015 budget which was proposed by former President Goodluck Jonathan in 2014. Since then, none of the appropriation bills passed has surpassed that.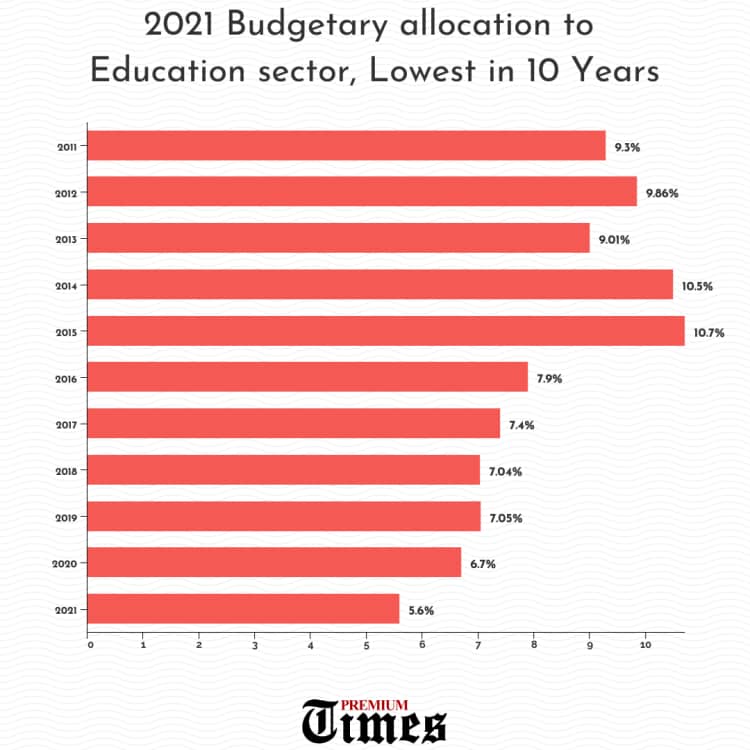 How Will Gift Eno Solve this Problem?
It wasn't a groundbreaking discovery, but struggling with depression and other education-related issues, Ms. Eno couldn't imagine the thousands of young students like her who went through and are still going through the same problem.
"The system required me to just cram a set of formulas and equations, and then pour them back during exams. But I was no way the cramming type, so it was really difficult for me. My grades were poor, I was getting depressed and frustrated, my self-esteem was low, so I thought to myself if all this was getting to me, how many more thousands of students are going through the same problem" Ms. Eno told CrestHub.
Inspired by this, she decided to start an academy that gives people the opportunity to learn things they love and are relevant to important areas of their lives, at their own pace.
"Every day, you see people graduating, but most of the things they learn in school are not applicable in the present world. Also, I discovered that many Nigerian students have repressed creativity while some are not even a bit creative. This is because the educational system here in Nigeria does not give room for creativity, so, I was inspired to start Value Max Academy to bring in and teach creative courses that will unlock the minds and the creativity of students"
About Value Max Academy.
Value Max academy is a hub on the Plateau that seeks to transform conventional Nigerian education by providing the highest quality, quintessential learning experiences that support learners at every stage, whether entering the global market, changing fields, seeking promotion or exploring new interests. This academy, also a virtual one, teaches kids and adults between the ages of 5-18 and 18-35.
Unlike other academies that only offer courses and certifications, Value Max Academy focuses on individual creativity and needs. They approach teaching with the intention to disrupt and transform minds in ways unimaginable.
According to Ms. Eno, "We want to build a society of young entrepreneurs who are not exclusively into business, but who have great ideas and are able to learn certain creative courses that will help them pivot even if they are working at a job. The whole idea is to create a synergized community of young people that are experts in their fields of dexterity"
"What we are doing here at VMA is building a community of creatives who are actively solving problems. We have a sense of community and purpose. We try to instil these values, the collaborative attitude in the people we teach"
With creative and fun methods, Value Max Academy offers courses on topics ranging from blockchain technology, creative thinking, leadership and organizational ethics.
Creating a special curriculum that is different from the one used in Nigeria, VMA offers several atypical courses. One of these courses like Ms. Gift mentioned is the Scratch 3.0 that teaches kids how to make cartoons and animations