Well, 2022 is over! This has been an adventurous year for us at CRESTHUB.
I remember at the start of my journey last year as a tech reporter at CRESTHUB, we had one goal in mind and that was to cover technology news in Plateau State, write in-depth analyses on technology and entrepreneurship, as well as tell the stories of underreported startups and founders in Jos and the rest of the State.
In August 2022, after working for a year as a staff writer, I was promoted to serve as Editor-in-chief, following Johnstone Kpilaakaa's resignation from the position; and assumed responsibility for pushing CRESTHUB forward.
The aforementioned goal was still the focus this year. However, not everything went as planned. There were many challenges faced, burnouts, and hard lessons learned. Also, just a few weeks into the year, one writer left the team.
Despite all these, CRESTHUB has managed to expand its scope.
In 2022, we hired new writers, covered news stories, scored exclusive interviews with companies like HerRyde, Ilerah, Bitsport, Kesho VC, and many more, and launched a new product – our weekly podcast.
News Coverage and Exclusives 📝
This year, we devoted a large portion of our reporting to stories on technology trends, startup investments, data science, funding, and tech competitions. We published exclusive features on many professionals who build and invest in technology.
With all the writers being young undergraduate journalists (like myself) learning on the job, we've successfully learned a lot along the way and critically examined what we can do better in the coming year.
New Team Hires 👥
As part of our growth objective, we added two writers to the newsroom this year.
Ajifa Solomon and Mary John joined us as junior reporters in February and June 2022 respectively.
Our New Product 🎁
Amazingly, after 7 months of consistent reportage, we included a new product to enable inclusion for our visually impaired audience and others who prefer audio content.
In July, we announced the launch of a weekly podcast called 'The Hub Podcast' — the podcast provides a dissection of the tech ecosystem in Plateau State, examining its achievements and challenges. We've had conversations with entrepreneurs, investors, tech talents and government officials on the podcast. Since its launch, we have successfully released 25 insightful episodes reaching 1,417 listeners from 16 countries.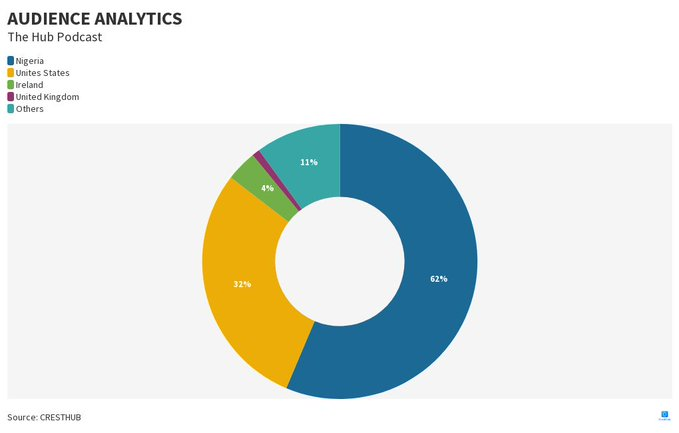 The podcast was hosted by our Senior Reporter, Nuel Umahi.
2023 Should Be Better
Amid everything we've faced this year, we are determined to do much better next year.
Our aim remains to become an authentic and reliable tech information hub on the Plateau, in Nigeria and beyond.
We plan to release our Monthly Newsletter next year, expand our podcast reach, pursue more solution journalism stories in tech and tell many more Northern stories.
We're excited about what's to come.
Best wishes to each of you. Happy holidays 🎉!
Editor-in-chief, CRESTHUB.com