The logistics and supply chain sector in Nigeria is one of the fastest growing industries in the country. Reports show that the industry in 2018, was ranked 145 out of 190 countries in its Ease of Doing Business, and 112 in the Logistics Performance Index.
Regardless of its growth, the retail sector still faces major problems in logistics services such as distribution channels (transportation) and communication networks.
So, to explore what the logistics industry is and how technology is changing its future, we take an in-depth look at smart logistics company, YourRider.
About the Company
Founded by Daniyan Victor and Luke Olawale in 2021, YourRider was born following a series of researches carried out as a result of the COVID-19 pandemic in 2020. The pandemic exposed Victor's eyes to seeing the need to start an intra and interstate logistics company as its demand increased between 2019 and 2020.
The resulting lockdown which made access to basic amenities difficult, later proved to be an opportunity for Victor. It was from this that Yourrider was born to provide an effective interstate delivery service.
"COVID-19 opened my eyes to seeing that many people had problems getting their products due to the limited availability of dispatch riders. I had to create the app with my friend just to solve their problems", he told CRESTHUB in an interview.
He added, "As the lockdown was eased, we saw the need to address the challenges that both e-commerce and individuals were facing after the lockdown. We decided to build up solutions to resolve their pressing problems".
The company which is a service based platform provides smart logistics applications that connect dispatch riders to customers via a mobile application. It has in the one year of its operations unboarded dispatch riders, provided corporate affairs commission (CAC) documentations, serves as partner service links, finance logistics and also, built partnerships with startups such as Bolt Food, Jumia, Konga, Paylidate, Nescart and Amerigo.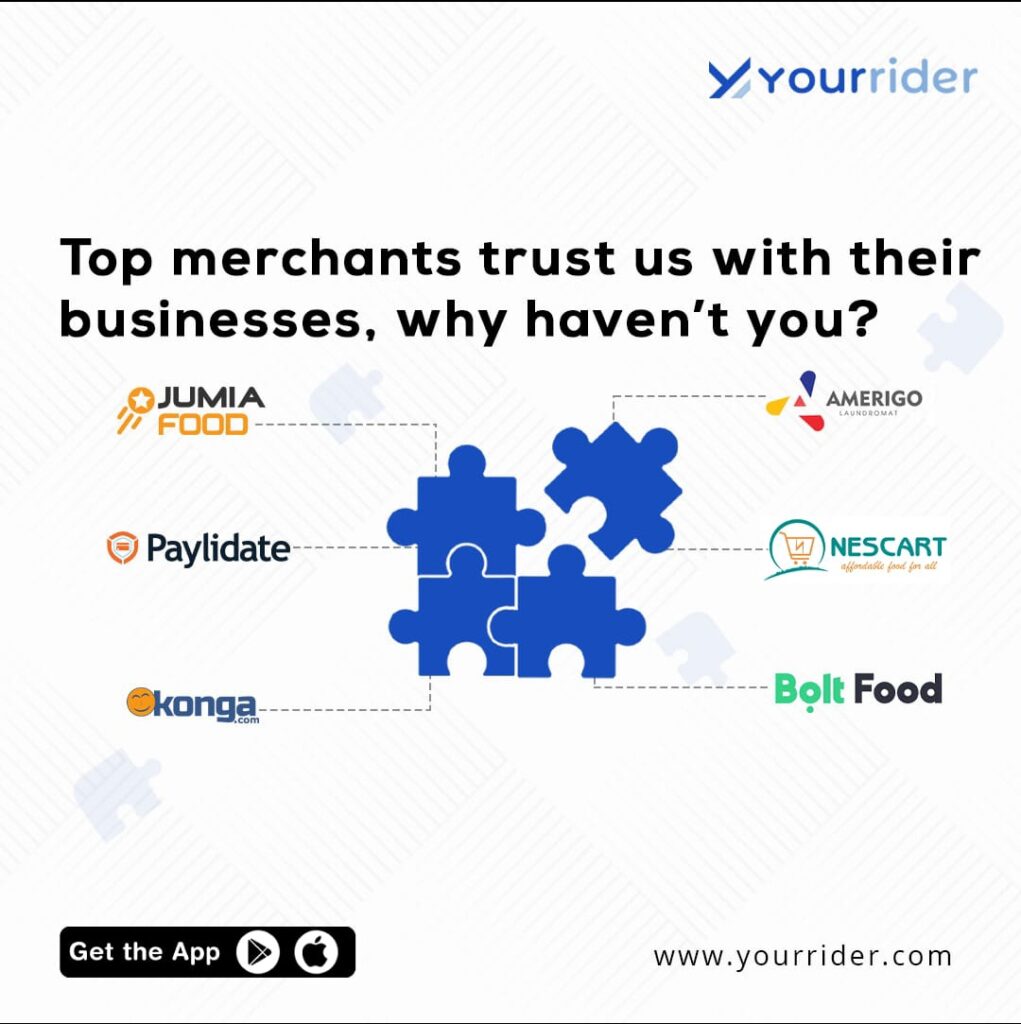 Currently, YourRider has 200 dispatch riders in Abuja, 50 in Lagos, 5 trucks (with 3 in Abuja, 1 in Jos and 1 in Kaduna) and lastly, 15 cars.
Attesting to the success of the company, Victor stated that, "Our success story is one built on partnerships. We have enjoyed and leveraged on the benefits of partnerships. For instance, one of our partners Paylidate offers a 10-15% discount to all payments using its platform".
Noting that most delivery services delay in the distribution of their goods, YourRider boasts of speed and efficiency as part of their major key performance indicators (KPIs).
Furthermore, it has developed a system to ensure a six-sigma performance 99.99%; which ensures low chances of commitments not being fulfilled. It also monitors its goods in transit remotely, in cases of theft, damages or misplacement.
The Big Issues in Logistics in Nigeria's Retail Market
For the Nigerian retail market, logistics has always been one of its primary challenges. This is as a result of the distance to these markets, inadequate transport systems and limited infrastructure; thus the difficulty for retailers to buy and convey goods to stores with ease.
"One challenging experience we've had is that most logistics companies are bootstrapped, hence, there is not enough funding to assist the Nigerian retail market", Victor said.
However, despite this identified challenge, there has in recent times been the provision of technology which has aided retail companies with the necessary technology needed for product packaging and upscaling.
According to Victor, "Technology is a key pillar of logistics as it ensures safe transportation and is a major optimizing agent for logistics growth".
Moving Forward
YourRider is currently working on its cross border delivery service. This would be incorporated by the end of Q4 and would be achieved through cargo airplanes and ships depending on the size and weight and urgency of the parcel.
"We are currently working on a partnership with an airline to further buttress our vision of last mile delivery. This would be disclosed by the fourth quarter of the year.
"Also, we are currently working on acquiring a warehouse. Although we use a common space for warehousing and packaging, we would like to have our own space that would be used for assembling," he said.