The Iconic and one of the biggest social media epithets, Twitter has been rebranded to carry the moniker X.
Musk announced over the weekend the new brand name and also made public the "X" logo. The social media official handle which carried Twitter is now inactive and carries the new letter and logo.
The company is confident and assures users of the effectiveness of X. Linda Yaccarino, CEO of Twitter, on Monday gives users a glimpse of what should be expected from the recent development.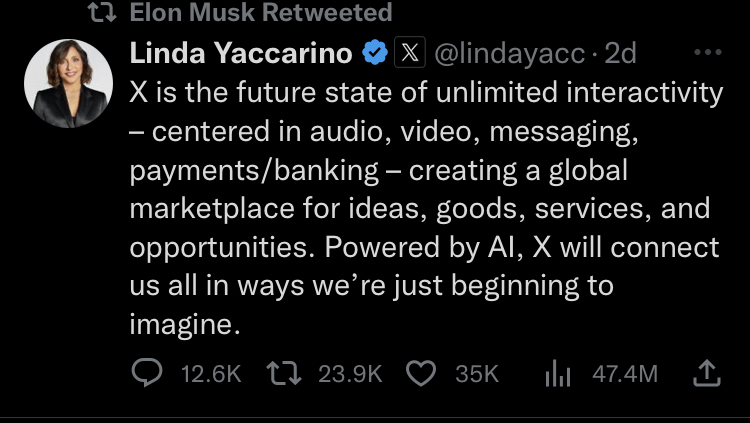 All of Twitter's official handles are now inactive e.g. @TwitterDev, @TwitterAPI, and @Twittersupport have been replaced with @Xdevelopers, @support, and @API, all carrying the X logo on their profiles.
In a tweet by Musk on Sunday, he mentioned that Twitter would gradually go extinct as various changes are being carried out.

The changes on the App are still in progress, as some provincial handles and even the mobile app still carry the Twitter moniker and blue bird logo.
According to a report by the New York Times, the removal of the Twitter logo in the San Francisco headquarters was suspended by the San Francisco Police(SFP) saying it was "unauthorized work".
Twitter's rebranding does not merely entail a change in brand name and logo, or even color. An update on the video page on Twitter shows that verified users can now download videos from certain tweets and view them offline. Given this, the user can allow other Twitter Blue user's download his/her videos on the Twitter video page.
Another unique new feature of the X app is that it allows live audio recordings on the space to be posted and listened to by users in their free time.
The company has renamed its conference rooms from a report by New York Times, removing the former that had relations to the Blue bird as "s3Xy", " eXposure" and "eXult". All carry the letter, X.